Shelf management systems for maximum visibility
The spring loaded shelving systems manufactured by Concept P.O.S. enable their users to better showcase the different products offered to their customers. These custom made product pusher units are designed to maximize the amount of goods available for sale on your shelves and allow a much better visibility of the products.
Dont be constrained by a standard shelf display system. You now have the freedom to design the display you really need.
The shelf is the most important visual aspect area in any store!
It is where you only have a few seconds to capture your customer's attention. In order to increase sales, shelving areas must be well organised, and have stock presented in an upright position at the front of the shelves. Quality product merchandising displays is vital to improving the consumers overall shopping experience. Retail case studies have proven that a well merchandised shelf drives additional sales.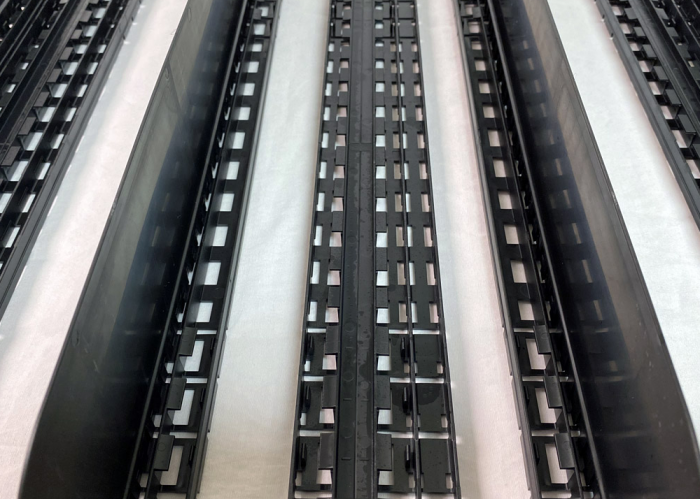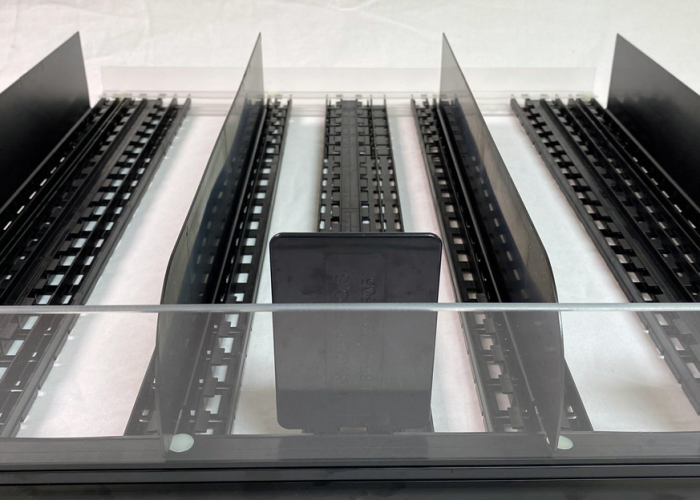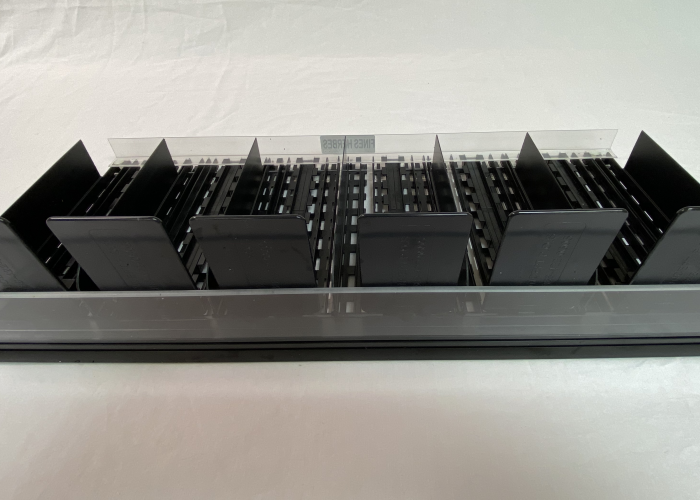 Our spring loaded pusher systems are specifically designed to always keep products where they should be, in front of your customer!
Our retail merchandising pusher systems are made in Canada from high quality and durable materials. Each spring loaded shelving system can be customized to your various goods and shelving specifications. While typically available for shelf width of 30", 36" and 48", they can also be assembled to fit a broad range of shelf widths and depths. All of our display pusher units are quick and easy to install (no tools required) and width adjustability will suit various size packages.
This system can be adapted to fit a variety of odd-shaped or rounded products. With five different grades of Variable Force Springs available, each individual system is designed to properly push forward most any type of goods found in supermarkets, convenience stores and many other types of retail sales businesses.
A study from the Center for Advanced Retail & Technology (CART) found that shelf pushers could increase a store's sales by about 17%. In the study, stores which implemented shelf pushers to sell their frozen pizzas were compared to those who did not use pusher systems. The stores that used the systems saw up to a 17.6% increase in the year-to-year sales of their frozen pizzas.
The results of the study showed that shelf pushers actually do increase sales.
cheese pusher spring merchandising trays . merchandise management system . product pusher unit . system merchandising . spring-loaded shelf pushers . retail merchandise system . candies & chocolate spring pushers . deli meat shelf pushers system . retail shelf pushers . clamshell pusher trays . frozen food shelf merchandising unit . product pusher rack . spring-loaded salad pusher system . shelf management pusher system . seafood display pushers . cigarette pusher paddle kit . auto-facing merchandising system